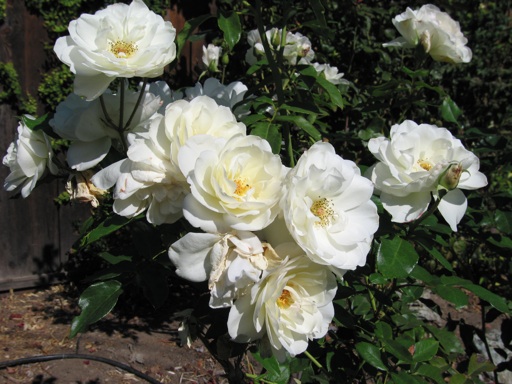 This is a picture of one of our two white iceberg rose bushes. It's blooming again for possibly the last time this year.
Iceberg roses are one of the most carefree roses we are growing. That's probably the reason why they are planted in front of shopping malls so often. Our iceberg roses grow quickly, especially the one in this picture, and they produce a lot of flowers, even for a floribunda rose, with little fertilizer.
Another reason I like iceberg roses is that they seem to attract bees more than our other roses. Today, for example, I saw bees buzzing around the bush in this picture, and I did not see bees on any of our other roses.
However, iceberg rose flowers are quite fragile. The flowers do not last long. They typically last only a few days. Iceberg roses do not make good cut flowers in my opinion. The one time I tried to make an iceberg rose bouquet, the flowers started to lose their petals a few hours after being cut, and they had lost most of their petals after a day or two.
October 20 2008 10:28 am | Roses