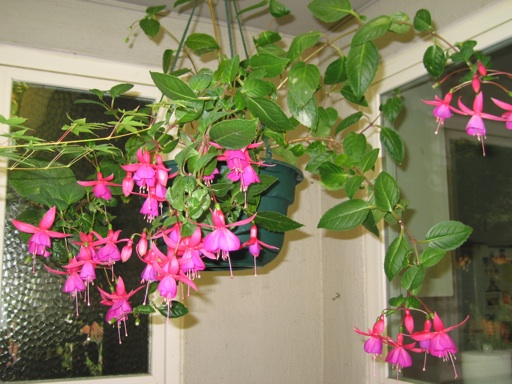 It seems that a garden is not complete without at least one plant in a hanging container.  Fuchsias are one of the best suited plants to grow in hanging containers. Growing them in hanging containers makes it easier to view them.  One can just look up and view the flowers as they droop downward.
Some varieties of fuchsias have erect branches and others having drooping branches.  I think that the types of fuchsias with drooping branches look especially attractive in a hanging basket.
These are pictures of fuchsias that are blooming outside our kitchen window right now.
Fuchsias are frost sensitive plants.  They should be brought inside during freezing weather in the winter if they are being grown as perennials.  We bought the above-pictured fuchsia in 2007.  It survived the entire winter of 2007-2008 outside without being brought inside.  The temperatures here did not dip too far below freezing last winter.  This fuchsia is now in its second summer.
The below-pictured fuchsia was purchased from a nursery last spring, looking nearly like what it does now. It looked great for weeks until it stopped blooming.  But I managed to get it to bloom again.  The secret, I have learned, to getting our fuchsias to bloom multiple times each year is repeated applications of fertilizer.  I apply water soluble fertilize to them about once every two weeks.  The fertilizer seems to kick start another bloom a few weeks after the last one has finished.  Now I am wondering whether I can keep repeat blooms going through autumn this year.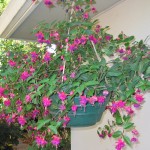 August 26 2008 | Fuchsia | Comments Off on Hanging Fuchsias