Even as summer begins to wind down, the vegetables growing in our 4 raised beds are still producing an over-abundance of vegetables. In fact, I have spent most of the weekends in the past month canning tomatoes and peaches. I just finished another batch of tomato sauce today, and the tomatoes keep on coming. We have harvested close to 300 tomatoes from the plants shown in this picture.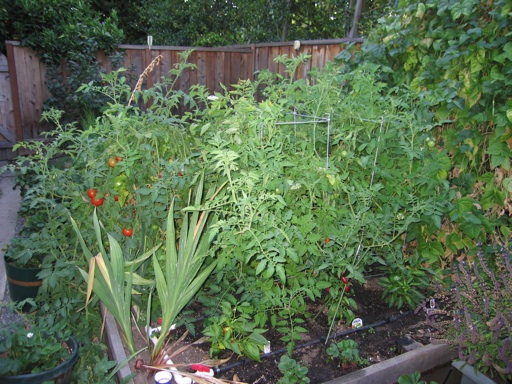 And we have barely begun to harvest the San Marzano tomatoes that are growing in another raised bed (see the next picture below). These tomatoes got off to a late start, because we planted them by seed at home and then set them outside in mid-May. We decided to grow San Marzano tomatoes after we heard Anne Burrell rave about them on the Food Network. We couldn't find them as transplants, so we bought a seed packet.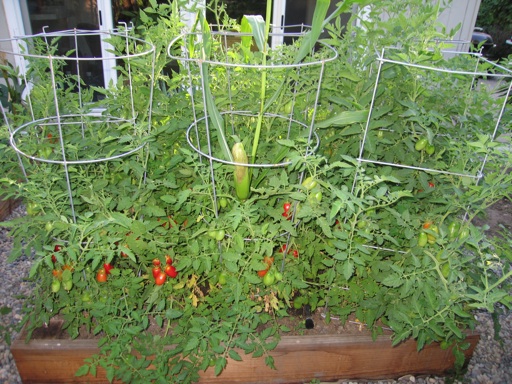 We have also had a lot of luck with eggplants this year. We are growing the lavender touch, black beauty, and New York varieties that we purchased as transplants from a nursery. We are also growing the Japanese long variety, which we started by seed indoors. I was curious to see if we could get our own seedlings to grow as well as the eggplant transplants that are sold in nurseries. I suspect that most vegetable transplants sold in nurseries are sown in the winter and grown in a greenhouse, giving them a big head start on the growing season.
Our Japanese long eggplants are much smaller than the other varieties we have, but they are growing surprisingly well despite the fact that they were much smaller than the other varieties when we set them outside into the ground. Here is a picture that I took yesterday of our New York eggplant, which has a few big fat eggplants that look very similar to black beauty.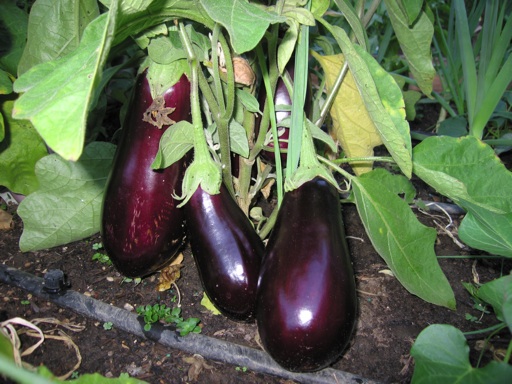 We are also growing several varieties of peppers this year. We have jalapeno, habanero, serrano, Thai, de-arbol, and various types of bell peppers. In general, the hot peppers are growing better than the bell peppers. This is the fourth year in a row I have planted bell peppers. The plants are not vigorous growers, at least in our garden. Each plant only produces a few bell peppers, and the fruit is usually small.
The hot peppers are growing better. We planted all of our peppers as transplants that we bought from a nursery, except the habanero peppers. We started those by seed ourselves indoors in the spring along with the eggplants and San Marzano tomatoes. I was skeptical that we would have any success trying to grow peppers by seed ourselves, but we decided to give it a try as an experiment. After a slow start, our habanero peppers started growing very well at the start of summer, and they are now producing several small peppers. I am amazed they have grown as well as they have.
Below are pictures of our habanero, serrano and de-arbol peppers, respectively. The de-arbol pepper is a very attractive ornamental plant, having several red chilis surrounding its green leaves. In fact, our plants have so many hot peppers that we are not sure what to do with them. I am considering trying to dry them, which might be one of my next projects.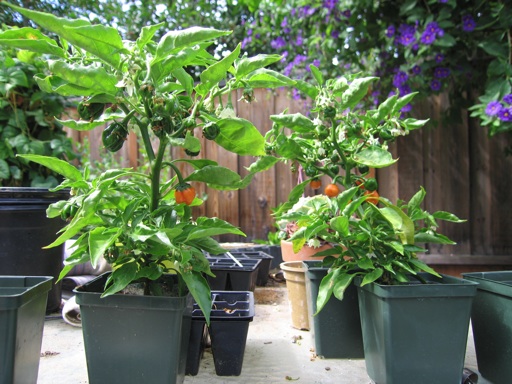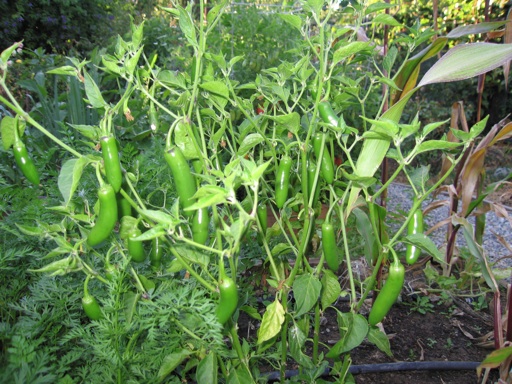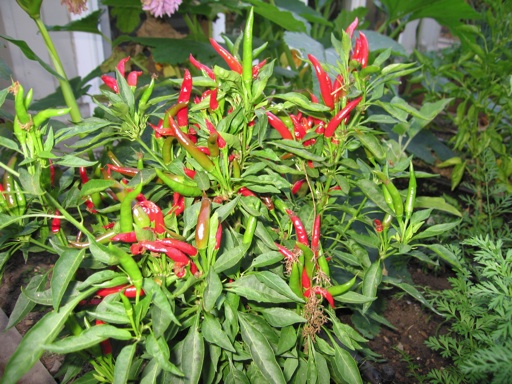 September 12 2010 | Eggplant and Peppers and Tomatoes | Comments Off on Late Summer Vegetables