Our strawberry harvest started the second week of April, which is very early for our area. But, their growth and fruit production started to slow down around mid-May. At that point, I realized that our strawberry plants weren't getting enough water from my automatic sprayers. For the past few weeks, I've been watering them by hand nearly everyday, and they seem to be responding to the extra water.
Our strawberry plants are now growing again and getting new flowers. In the past, I've thought that fertilizing regularly was the key to getting lots of strawberries for many months. But now I'm realizing, they just need lots of water, preferably a daily soaking.
Below is a picture of some of our Chandler strawberries growing in a pot. Chandler is one of my favorite varieties, because it produces large strawberries on strong stems. I have also been growing Sequoia strawberries for years.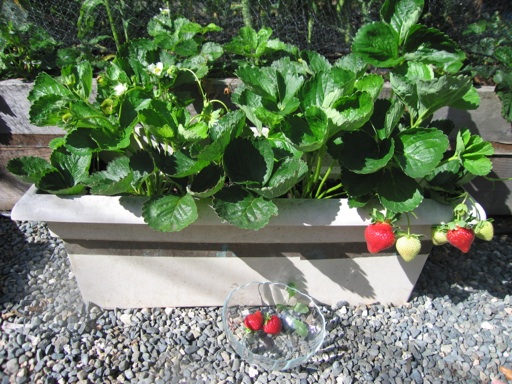 Last week, I planted some everbearing Albion strawberries, which I hope will produce berries in mid and late summer after the June bearing varieties are finished. This is a variety that I haven't grown before.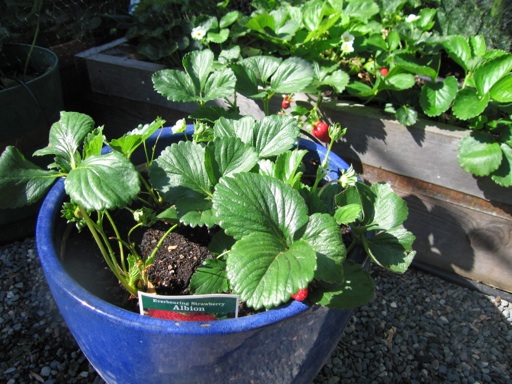 I've also been harvesting cherries from our Rainier and Royal Rainier cherry trees this past week. The Royal Rainer cherries are very sweet and mild (picture below). Our Royal Rainier tree has produced cherries nearly every year we've had it, which is about 5 years now. It has consistently produced more fruit than our other two cherry trees, even though it is smaller than our other cherry trees.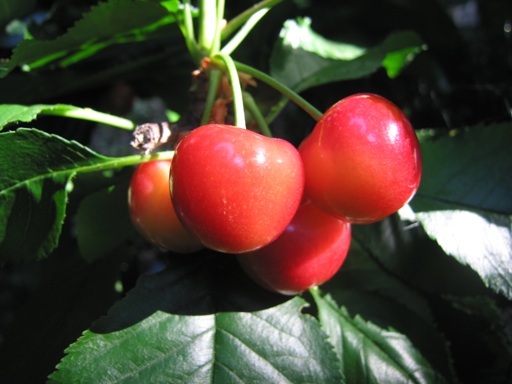 Our Rainer cherries are more tart, even though the tree is a year older than the Royal Rainer and visually the cherries look very ripe. Also, the tree doesn't have many cherries, and this is the first year it has had more than 2 cherries. However, our Rainier tree is a very vigorous grower. It has grown to about eight feet tall and as wide despite regular pruning as shown below.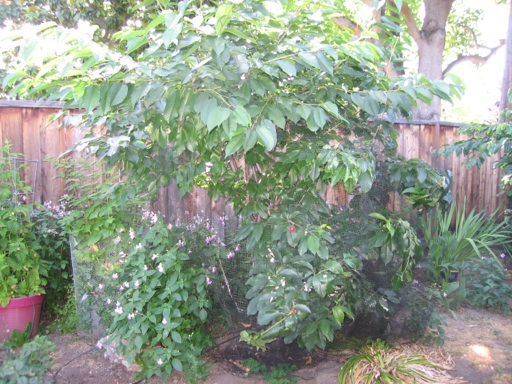 Our third cherry tree is a Bing, which also has its first significant crop of cherries this year. Its fruit is just starting to get a deep red color. I'm leaving the fruit on the tree, until they get nearly black. And of course, I have bird netting on all three trees. So far, it has prevented even a single cherry from being pecked at, as far as I can tell.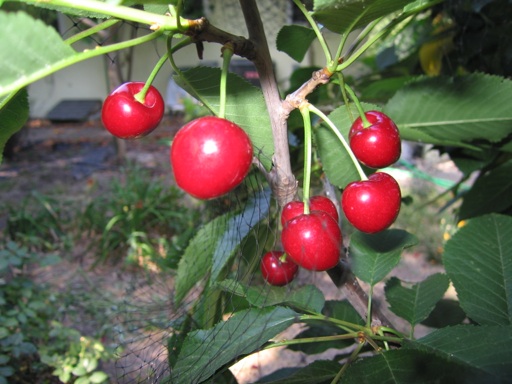 Our blueberry harvest also started the second week of April, which is about a month earlier than usual. I was picking blueberries from our Misty plant in April and early May. Moving it to a sunnier location and the warm weather we had this spring seem to be the reasons for the early harvest. I also currently have the blueberry varieties Southmoon, Sunshine Blue, Jubilee, Reveille, Sharpblue, and O'Neal. These others starting ripening around mid-May, and they still each have many underripe berries left on their branches. I have all 7 of our blueberries in pots, and they seem to be thriving in them as long as I keep them well hydrated. They definitely dry out faster in the pots than in the ground. Below is a photo of a few of the blueberries that are growing next to a fence, which makes it easier to net them.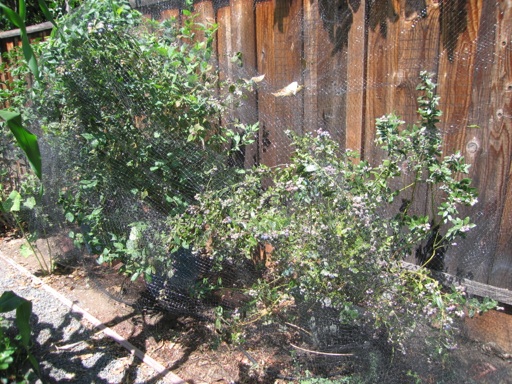 And here is what the same plants looked like in bloom on March 2.
I harvested so many blueberries this week that I had enough to make a blueberry pie and still had some left over.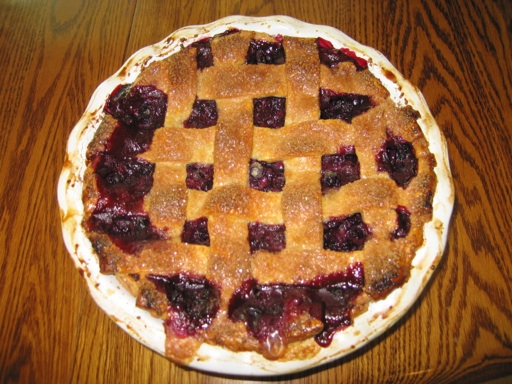 June 06 2014 | Blueberries and Cherries and Strawberries | Comments Off on Berries and Cherries