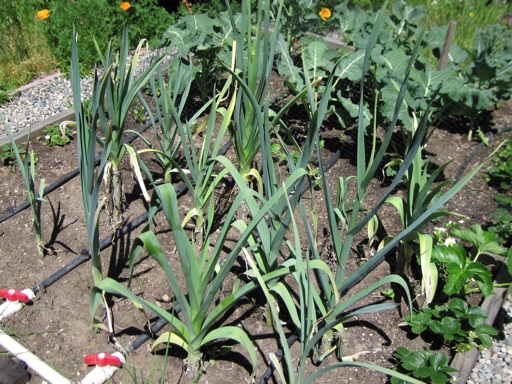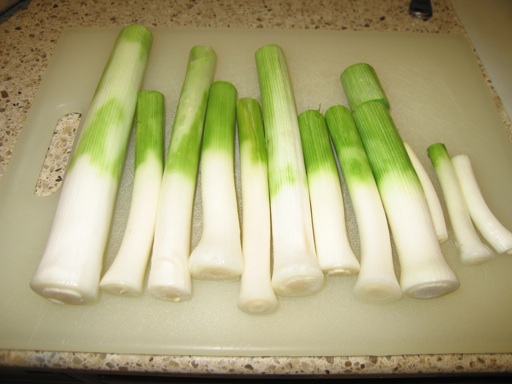 Last spring, I planted leek seeds for the first time in one of our raised vegetable garden beds. Most of the seeds sprouted within a month. Late last summer, I dug them up and transplanted them to a different raised bed where there was more room for them to grow. They didn't show any sign of shock after the transplant, as far as I can remember. In any event, they continued to grow through fall, winter, and early spring this year.
Within the past few weeks, they started to "go to seed" (first picture above taken yesterday). That is, they started to grow long stalks with flower buds at the tip, indicating it was harvest time. Yesterday, I pulled them up, and then cut off their roots and leaves (second picture above). They weren't any where near as large as the leeks I see in grocery stores, but I guess size doesn't matter if you are just going to slice them. Today, I made potato leek soup for the first time with my home grown leeks. The soup turned out really well. Here is the recipe:
1 Lb. leeks cleaned and sliced
3 potatoes skinned and diced
2.5 TBS butter
3.25 cups chicken broth (may be low sodium)
1/4 cup dry vermouth
1/4 tsp white pepper
1 cup half and half
salt to taste
Saute leeks in butter and a pinch of salt for about 20 minutes until soft. Add potatoes, pepper, vermouth, and broth, bring to boil, and reduce to simmer for 30 minutes. Puree with 1/2 and 1/2. Salt and pepper to taste.
April 22 2012 | Leeks | Comments Off on Leeks