In March, we added two more raised beds in our backyard. We now have four raised beds that we are growing vegetables in. This year, we are growing tomatoes, potatoes, pole beans, peppers, eggplants, onions, basil, strawberries, cilantro, corn, zucchini, carrots, and cucumbers in our four raised beds. Although we haven't harvested any vegetables yet, some of our vegetable plants are growing better than others.
Last October, I harvested seeds from dried up bean pods on our pole bean plants. I stored those seeds in a plastic bag over the winter and then planted the seeds in mid-March. Below is a picture of our pole beans today. In nearly 3 months, they have completely covered the fence I built for them last year.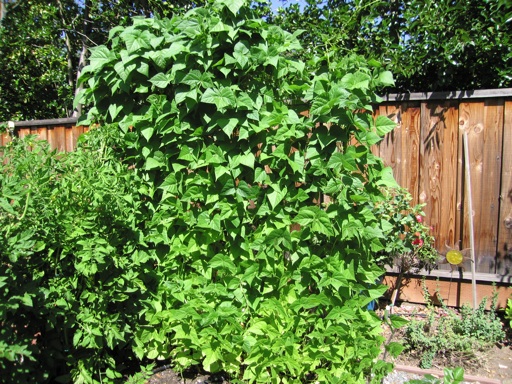 In my experience, pole beans have been really easy to grow by seed and very prolific producers. Nearly all of the seeds sprout without any stratification. And once the beans sprout, they grow quickly with minimal care and little or no fertilizer (at least in our soil which is amended with compost). Although snails and slugs will eat them if they are not protected somehow. Every year that we have grown pole beans (for about the past 4 years), they have produced more beans than we could eat.
Another plant we have had a lot of luck growing is tomatoes. We planted three tomato transplants (early girl, big beef, and champion) in March that we bought from a local nursery. They were about 4 inches tall at the time. They have grown very quickly over the past 3 months, even though the weather here has been much wetter and cooler than average. As shown in the next picture, they have already grown to completely fill their cages.
We also planted San Marzano tomatoes by seed indoors a few months ago. Growing tomatoes by seed is a first for us. Nearly, all of the tomato seeds sprouted, but as soon as I transplanted the first batch of seedlings outside in early May, they died. The remaining batches of tomato seedlings I "hardened off" by gradually exposing them to direct sunlight and the outside temperature a few hours a day. After hardening off for about 2 weeks, I planted the remainder of the seedlings outside in our new raised beds. The tomato seedlings I hardened off survived and are looking better, although they are only about 6 inches high now.
Of course, one of the advantages of growing plants by seed is access to a larger number of varieties, many of which are not easy to find as transplants. San Marzano tomatoes are supposed to be great sauce tomatoes. The next pictures shows the two new raised beds we just added in our yard. The San Marzano tomatoes are growing on the left side of the bed in the foreground.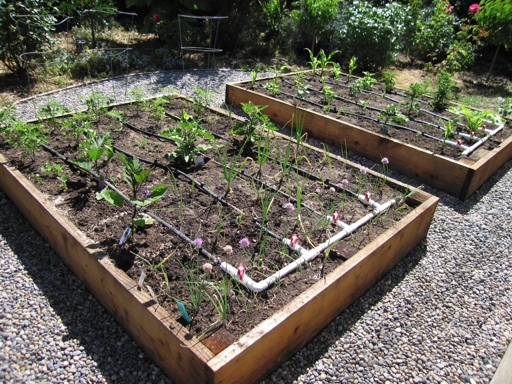 Some of the plants that we haven't had much luck with this year are onions and leeks. I planted white onion sets, shallot sets, and leek transplants in one of our raised beds in March. The onions and leeks are growing on the right side of the bed in the foreground in the above picture. Although the onions and shallots sprouted, they haven't grown much, and many of their leaves are turning yellow. The leeks haven't grown at all since I planted them. I don't have any idea why they haven't grown well. But I tend to think that part of the fun of growing is taking a chance on growing new plants and that often means some of those plants don't end up growing well.
Potatoes are another new plant we added to our garden this year. I planted yukon gold potatoes, which I ordered online as potato sets. I also planted white potato sets, which I purchased from a local nursery. The yukon gold potatoes look wonderful. They have already grown to about two feet tall and have really filled in the space around them (see picture below). The white potatoes sprouted, but they didn't grow nearly as much as the yukon gold potatoes, so I ended up removing most of the white potatoes to make room for other plants.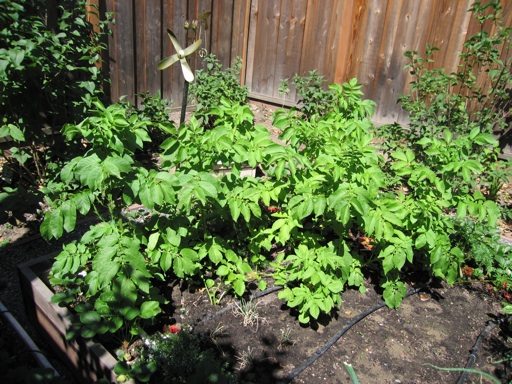 June 13 2010 | Beans and Onions and Potatoes and Tomatoes | Comments Off on Vegetable Garden Successes and Misses