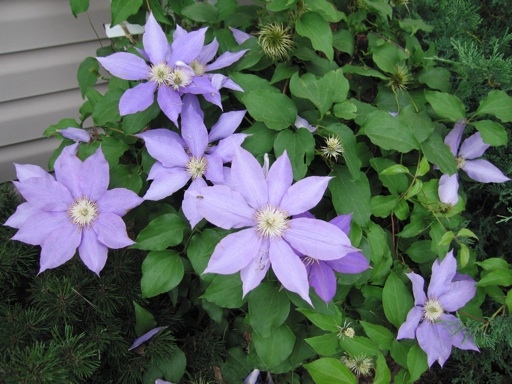 We are visiting family in rural Kentucky this week. This is my first trip to this part of the country. It's interesting to see what plants people are growing in their gardens in other parts of the country.
Many beautiful plants are growing in Kentucky gardens this spring, such as this lavender clematis that is blooming right now. Clematis is a deciduous flower vine. The vines grow up a support, such as a fence or post, and are covered with colorful large flowers this time of year.
I have noticed many differences about the way people garden here compared with how we garden in California. One of the most interesting differences is that people here in Kentucky seem to get away with relying almost entirely on rain to water their plants. Typically, enough rain falls in this part of the country in the spring and summertime to keep their gardens watered without supplemental irrigation. It's interesting to me that people here can grow so many water hungry plants without constantly having to water them. It has already rained a few days since we have been here.
May 25 2009 | Clematis | Comments Off on Flowers in Kentucky