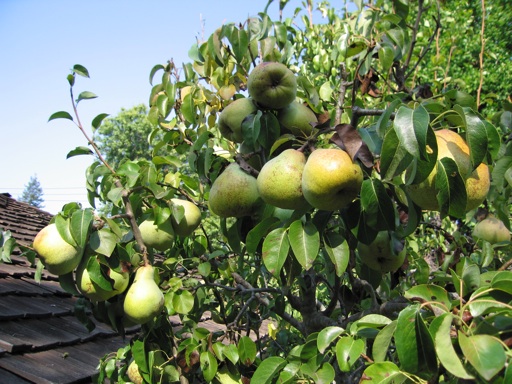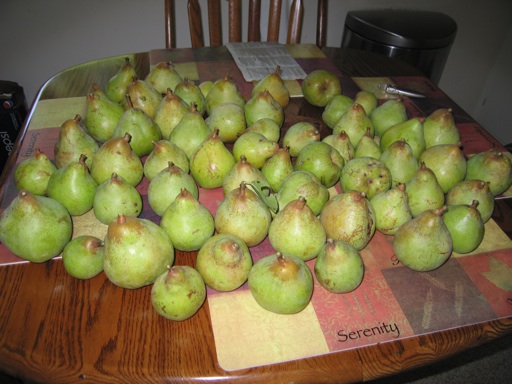 Yesterday, my mom and I harvested about 70 Comice pears from a small tree in my backyard. Our tree is crammed into a small space in between our house and a fence that is only about 6 or 7 feet away from the house and runs parallel to the house. The tree has grown upright in between the house and the fence. This tree was planted by the previous owners of the house. They didn't pick the best spot, because the tree doesn't have enough room to grow any wider. However, our Comice pear tree has managed to produce an abundance of pears nearly every year (except the years I didn't net the tree). This is an example of how a fruit tree can be grown in a small space in a backyard and still produce high quality fruit.
In my opinion, Comice pears are the best tasting variety of pear. In fact, they are one of the best tasting fruits. The comice pears we have harvested from our tree taste even better than Bartlett pears. Our comice pears are very sweet. They are sweeter than Bartlett. Bartlett pears tend to have a bit of tartness, although I am a big fan of those pears as well. We also have a Bartlett pear tree.
Like all pears, Comice pears need to be picked while they are still unripe, and then ripened indoors. The worst thing about Comice pears is having to wait so long to eat them. Comice, Bosc, and D'Anjou pears need to be kept in a refrigerator for at least a month after harvest. After a month in cold storage, they can be brought to room temperature to ripen properly.
September 28 2009 | Pears | Comments Off on Comice Pear Harvest