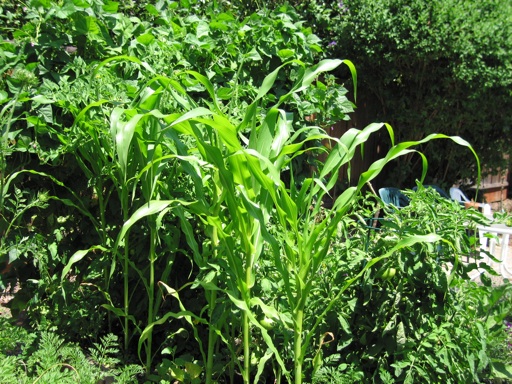 I planted the corn in this picture back in mid-April when it was about two inches high. Corn has been one of the fastest growing plants in our raised bed vegetable garden this year. It has grown particularly fast in the past month. It is already about four feet tall, even though it's getting crowded by nearby tomato and bean plants that I planted the corn too close to. The fastest growing plants in our garden this year have been pole beans (behind the corn in the picture), corn, tomatoes, and zucchini.
I planted a sweet white variety of corn this year. I tend to prefer the white corn varieties over the yellow corn varieties, because I have found that white corn is usually sweeter. Last year, I grew a bi-colored yellow and white corn variety which turned out to be very flavorful and buttery.
Our tomatoes and beans are also growing vigorously and crowding our nearby peppers and eggplants. The peppers and eggplants haven't been growing very much. I think that's because they are not getting enough sun. Perhaps, they don't have enough root space either. I really underestimated how large some of these fruit/vegetables would get. Next year, I will try to have more restraint by setting out fewer plants.
June 28 2009 | Corn | Comments Off on Fast Growing Corn