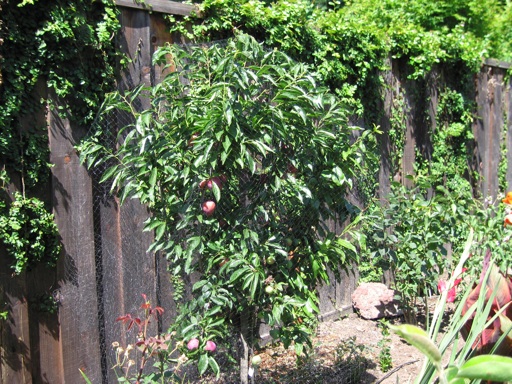 I planted several new fruit trees earlier this year in our yard, including an almond, another peach, a nectarine, a plum, and 2 more cherries. I sometimes hear people say that fruit trees take too many years to produce fruit. For them, I have three words: plums, peaches, and nectarines. All three typically bear fruit by their second year in the ground.
I planted a 4 variety multi-grafted plum tree in February. It already has dozens of plums (see first picture above). Most of the plums are hidden behind the leaves in this picture. The 4 varieties are beauty, nubiana, laroda, and elephant heart. They ripen in June, July, August, and September, respectively, for a 4 four month long plum season. I have already eaten several of the beauty plums, and they are good, with just a little tartness in the skin. Plums produce fruit at a young age. Although my tree wasn't a new bare root tree when I bought it. It looked like it had been in a pot at least a year.
The other new fruit trees I planted as bare root trees. They don't have any fruit this year, but they are growing vigorously. The second picture shows the new nectarine (snow queen) in the foreground and the new peach (snow beauty) in the back right. The peach and nectarine trees will likely have their first crop of fruit next summer. Peaches and nectarines produce fruit on branches that grew during the previous year. They also produce fruit at an early age like plums.
I found that one of the keys to growing fruit trees successfully is giving them a regular supply of water and not letting their root systems dry out at any time. In our dry climate, that means regular watering. I have micro-spray devices on all of our fruit trees that are controlled by an automatic watering system. They get watered for about 5 minutes every other day through the spring and summer months. I have found that this schedule keeps the roots moist without over-watering during normal conditions here. During hot weather (90 degrees plus), I water them everyday and/or for a longer time.
Some people are lucky enough to live in climates that get rain on and off throughout the spring and summer months. Last month, I visited family in Kentucky. The small fruit orchard in their backyard includes two peach trees. One of the things I noticed was that the leaves of their peach trees were a pale green color, and they were not actively growing new leaves. The leaves were not a healthy looking deep green like the leaves of our peach trees in California.
My first thought was that they looked like they were not getting enough water. The ground around the trees looked dried out. That seemed strange, because I was told that it had rained a lot in early May before we arrived. Apparently, the sun dries out the ground quickly there too in the late spring.
I have noticed that when fruit trees like peaches don't get enough water for several days or weeks, the leaves tend to turn pale, and they stop growing. I think that it begins to happen as soon as the roots dry out, which probably happens a lot sooner in young trees that have small roots systems. The lesson I have taken from my experiences is that it is important to prevent the root systems of young fruit trees from drying out, so that they continue to grow through the spring and summer. That's particularly important for newly planted trees.
Even in Kentucky were it rains frequently through the spring and summer, it's possible that peaches and other fruit trees can dry out after a week or more without a significant downpour. I was told that nobody bothers to water their outdoor plants in Kentucky, because they feel that there is no need to. But perhaps they should consider supplemental watering during dry spells.
June 21 2009 04:17 pm | Cherries and Peaches/Nectarines and Plums