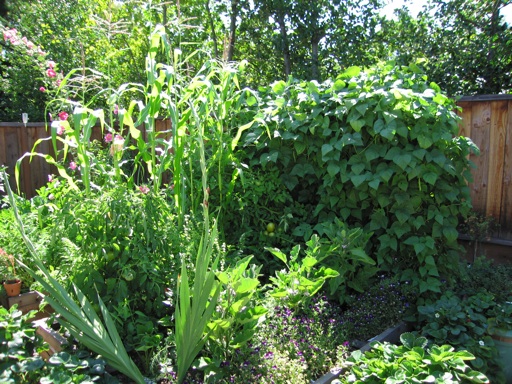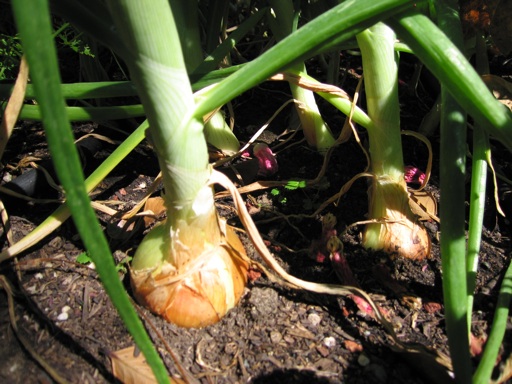 We have been growing vegetables in two 6′ x 7′ raised beds since last summer. In these two small beds, we are growing several different types of fruits and vegetables including peppers, eggplant, zucchini, green beans, tomatoes, corn, carrots, onions, cantaloupe, and honey dew.
Our most successful plants so far are the green beans and zucchinis. They are producing more green beans and zucchinis than we can eat. Only a few of the tomatoes on our two tomato plants are have ripened so far (see second picture), but there are dozens of green tomatoes hanging on the vines.
Several of our carrots and onions are just about ready to harvest. The third picture shows some of the walla walla onions we are growing this season. Our corn stalks have reached their maximum height and are now starting to grow small corn ears.
Our eggplants and peppers are growing several small fruits. Although the peppers have not grown very much since I planted them in April. They seem to be getting crowded by the beans, carrots, and tomatoes growing next to them. One of the problems with growing so many different types of plants in a small area is that the slow growing plants like peppers and eggplant tends to get crowded by the faster growing plants. Next year, I may try to plant the slower growing plants together in one bed and the faster growing plants in the other bed.
I haven't fertilized most of the plants in our vegetable garden since mid-May. I was fertilizing them with water soluble fertilizer for about the first 6 six weeks after planting. After that, most of the vegetables started growing so fast that I decided to stop the fertilizing. I have only been continuing to fertilize the eggplants and peppers in an attempt to get them to grow more.
I have also been fertilizing our strawberries about once a week. I know that sounds like a lot of fertilizer, but they have been producing strawberries continuously since early May. They show no signs of slowing down their fruit production yet. I have been harvesting a small bowl full of berries every few days for over two months. I attribute the huge production of berries to all the fertilizer. Last year, they stopped producing berries in early June. But as soon as I started fertilizing them, they begin to produce berries again.
Our strawberries are growing in pots around the raised beds, which makes it easy to pick them. Strawberries tend to rot quickly when the fruits are lying directly on damp soil. The berries mostly hang over the edges of the pots, so the berries stay dry.
July 12 2009 04:29 pm | Onions and Strawberries and Tomatoes and Vegetables