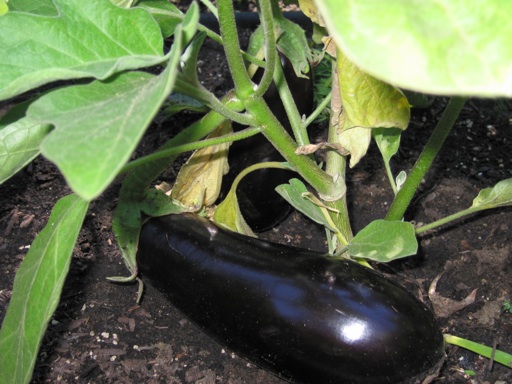 This photograph is a picture of a Nadia black eggplant growing in our vegetable garden. It is finally producing eggplants, and the first one is almost ready to pick. I like these long narrow eggplant fruits, because they are easier to slice than the fat ones.
I planted this eggplant back in early July as a small transplant from a local nursery. This season is the first time that I have grown eggplant. So far, I am pleased at how easy they have been to grow. Although our eggplants have grown slowly for an annual, they are maintaining growth even now in October as the days shorten and the nighttime low temperatures cool off. The leaves of my tomato and zucchini plants are full of mildew right now, but the leaves of the eggplants are mildew free. And our eggplants are continuing to bloom and generate more fruit.
Last month, I harvested a few eggplant fruits from our other eggplants. The fruits had a fresh smell and a nice firmness to them that I have rarely seen in eggplants. They were also free of bruises and dents. We used them with our home grown zucchinis and tomatoes to make a tasty vegetable gratin.
October 11 2008 04:31 pm | Eggplant