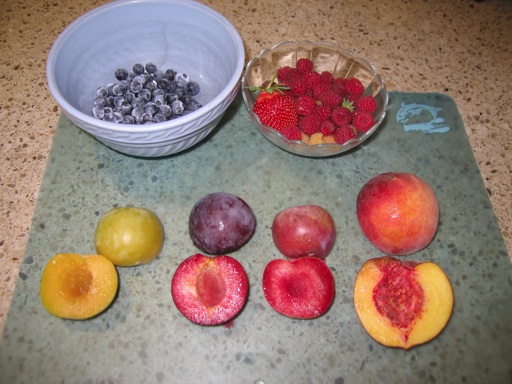 Today, I harvested and ate our first flavor queen pluot. It's the greenish fruit on the left in the above picture. It had a very mild, somewhat sweet, flavor with no tartness. I thought it tasted nothing like a plum. I have read that flavor queen can be extremely sweet, but our weather has been so mild lately (highs in the mid-70s) that it may not have been able to reach its full sweetness potential.
I have now tasted all four of the pluot varieties from our multi-grafted pluot tree, flavor king, flavor queen, flavor supreme, and dapple dandy. I like all 4 varieties. Each one is different in color and taste. The dark purple fruit in the above picture is a flavor king. It has a nice plum-like flavor. It tastes better than most plums, except maybe Laroda plum. The skin is just a bit tart, no where near as tart as Santa Rosa or Beauty plum.
The pink fruit in the above picture is a dapple dandy pluot. The dapple dandy scion of our very small multi-grafted tree has produced at least 3 dozen pluots this year, many more than the other 3 scions. The fruits have been hanging on the tree in a near ripened state for a few weeks. The first dapple dandies I picked last month were tart. But now they are sweet with very little tartness. Like flavor queen, they taste nothing like plums, but they are sweeter than flavor queen (at least ours are). Dapple dandy may be my favorite pluot of our 4 varieties, because of the combination of producing lots of fruits and its nice mild fruity flavor.
The flavor supremes ripened over a month ago, which is why I wasn't able to put one in this picture. They also have a delicious flavor that is somewhat plum-like.
The fruit in the lower right of the picture is one of our first O'Henry peaches of the season. Our O'Henry peach tree is now 10 years old, and I have eaten a lot of them over the years. The weather has a big effect on the flavor of our peaches too. Our O'Henry peaches so far haven't been very sweet. They're not too tart, just kind of bland. Again, I blame it on the mild weather. It takes some heat (80+) for several days to get them sweet. Last year, the first 2/3 of our peaches were plain tasting. But in the last week of August, we had several days of warm weather (mid-80s-about 90) and the peaches that ripened after that warm spell were sweet and very tasty.
The blueberries, raspberries and strawberry in the bowls are also from our garden. There's not many strawberries or blueberries left to harvest, but our red and yellow everbearing raspberries are just starting to produce a lot of berries.
August 17 2012 | Peaches/Nectarines and Pluots | Comments Off on Fruity Flavors