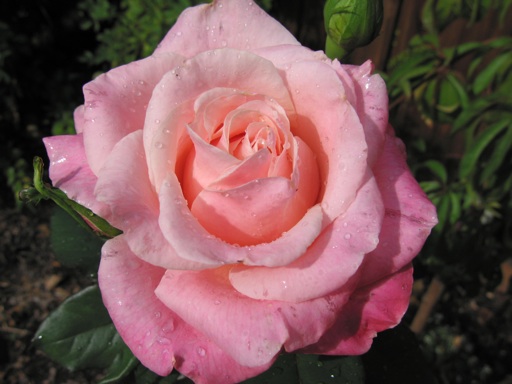 The cooler weather has not stopped our roses from blooming yet. In the past week, yellow, red, white, orange, purple, and peach colored roses have been blooming in our yard. This picture shows a pink Color Magic hybrid tea rose that just started blooming again for the first time in about 2 months.
I just bought this Color Magic rose bush from a local discount home improvement store last spring for about $6.50. When I bought it, it was small, and it only had a few stubby canes. In fact, a woman who was standing next to me in line when I was waiting to purchase it told me that she would not have picked that rose based on how it looked at the time.
But I had a feeling that it had potential. I have found that roses respond well to a little TLC. And for that price, how could I go wrong? I try to buy roses that have a thick stalk and thick canes. I think that the thicker roses are more mature, and therefore more likely to grow quickly once they are transplanted into the yard.
Our Color Magic rose has grown to over 5 feet tall from about 1 foot tall in past 6 months, and its leaves are dark green and healthy looking. It has grown particularly fast since I increased the amount of water it was getting in September. I think I only fertilized it once back in early summer.
November 02 2008 | Roses | Comments Off on More Autumn Roses