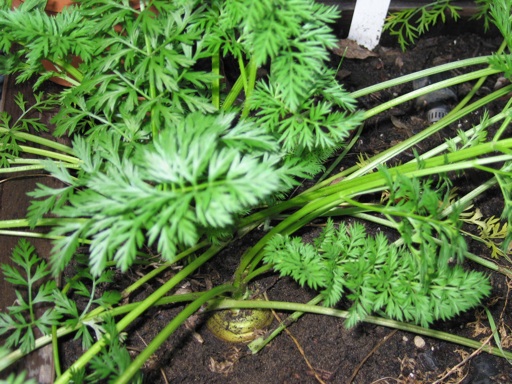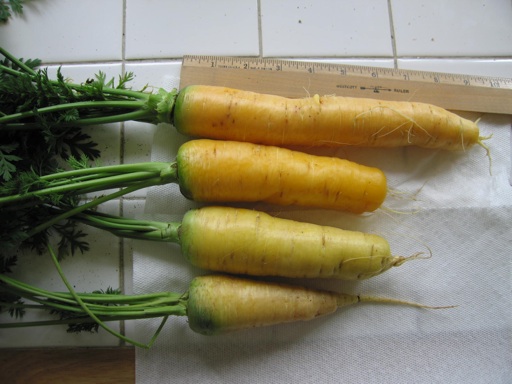 Nearly all of the plants in our vegetable garden are dead or dying. The one exception is the carrots I planted by seed last summer. We planted yellow and red carrot seeds, because we thought they would be interesting novelty plants. The carrots look healthy right now despite the cold weather we have been having.
Several nights last week, the temperatures here fell into the low 30s F. The frost damaged the leaves of our brugmansia and plumeria plants. However, the carrots appear to have been unaffected by the cold temperatures. The leaves still look green and healthy. The high temperatures here have been in the upper 40s to low 50s for weeks.
Today, I harvested our first carrots, shown in the above pictures. Obviously, one doesn't know what an individual carrot will look like until it's uprooted. So I was very excited to pull them out of the ground and discover nicely developed carrots attached to the leaves. The surprise factor adds an interesting dimension to growing carrots. These appear to be yellow carrots. The largest one is about 9 inches in length. The thickest one is about 1.75 inches in width. I can't wait to taste them. We are going to serve them for Christmas eve dinner. I haven't grown carrots since I was a child, and I remember not having much luck with them back then.
I have read that one of the keys to growing carrots is to grow them in at least a foot of loosely packed soil that is free of rocks. Otherwise, the carrots may not develop to their full length or may develop forks. Growing them in a foot-high raised bed filled with compost seems to have helped.
December 23 2008 04:07 pm | Carrots